SANDRA NEWMAN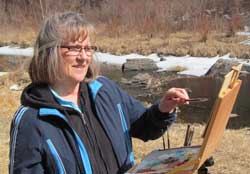 Sandra believes that producing art is one of the most fulfilling and therapeutic experiences a child can have. Having worked with children presenting a variety of emotional and behavioral problems, she has gained valuable insight into what the art experience can mean to an individual. She believes it is not necessary for a child to show artistic talent in order to enjoy art.
It is her goal to help students find personal meaning in the process of creating. She believes it is important to introduce students to the principles and elements of art so they will have a foundation on which to create. Then the hands-on experiences can be used to problem solve and improve emotional health.
Watercolor techniques are the main components of her residency but her teaching experiences have allowed her to work with many other mediums as well. She would be willing to present units on acrylic, pencil, clay, chalk and oil pastel or printmaking techniques to name a few. She holds a B.A. degree in art education K-12 and feels comfortable teaching.
Sandra has received numerous awards for her work in oil and watercolor. She was juried into the San Luis Obispo Plein Air exhibition in California in 2008 and earned the Gold Watercolor Award for Excellence as a watercolorist in Moorhead, Minn., in 2007.
Grade levels: K-12
Sandra Newman
Phone: 605-348-7711
e-mail: sandranewman@live.com
Web site: www.sandranewmanart.com