Sioux Falls Jazz & Blues Society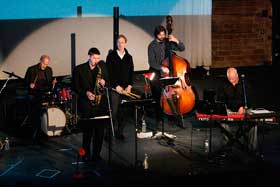 The Jazz Diversity Project takes audiences back in time through a musical journey that focuses on jazz music in American history and culture with live music, dynamic narration and a multimedia presentation. Performed by the Jazz Diversity Project Ensemble, which is comprised of members from the Dakota Jazz Collective jazz band, the program gives an exciting 50-60 min performance that deepens jazz music appreciation for all concert attendees. The band is also available for community concerts, workshops or master classes to be held in conjunction with the Jazz Diversity Project.
Fee structure: The Jazz Diversity Project program is free for public schools, but community jazz concerts are encouraged. The band can conduct workshops and master classes with middle school, high school or college level students. Concert fees are $800, workshop and master class fees are $500. SDAC support up to 50%.
Technical requirements: Auditorium, gym or music room for presentation (20 x 20 feet space is ideal), the room where the presentation is held must be available one (1) hour prior to the start of the presentation and thirty (30) minutes after presentation to allow for set-up and tear down, An LCD projector and laptop with Microsoft Power Point software, five (5) music stands, five (5) armless chairs, Source of electricity for band's instruments and appropriate length of extension cord(s) to reach the performance area, and six (6) bottles of cold water.
Contact: Rob Joyce
PO Box 1285
Sioux Falls, SD 57101-1285
(605) 335-6101
e-mail: info@sfjb.org
website: www.sfjb.org