Allison Hedge Coke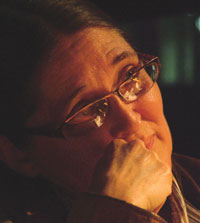 Allison A. Hedge Coke is Distinguished Professor at the University of California, Riverside.

She is the editor of nine anthologies and author of six poetry volumes, including: Blood Run, a verse-play set in eastern South Dakota (Writer of the Year Award, 2006), Dog Road Woman (American Book Award), Off-Season City Pipe (Writer of the Year Award 2005), Streaming (Pen Southwest Award, IPPY Medalist), Burn (2017), and a memoir, Rock, Ghost, Willow, Deer (AIROS Book of the Month selection). Her works of poetry and fiction have appeared extensively in anthologies and magazines and she was the 2016 Library of Congress Witter Bynner Fellow.

Hedge Coke intends to foster a new generation of writers and artists by sharing skills, craft and technique and by building confidence, encouraging self-esteem and supporting writing and art as vehicles for communication, self-expression and growth.
Hedge Coke has more than 25 years of teaching experience in honors classes, special education, gifted and talented programs and arts magnet schools. She has worked with migrant youth, reservation and urban Indian students, youth-at-risk, incarcerated, and students with emotional disabilities at K-12, college, graduate and post-graduate levels.

Grade levels: Pre-K-12
Limited dates—contact artist before applying.

Contact: Allison Hedge Coke
Riverside, CA
Phone: 405-888-1574
Email: hedgecokeaa@gmail.com
Website: http://www.allisonhedgecoke.com/