FRAN SILLAU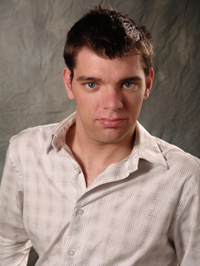 Over the past decade, Fran Sillau has served as a teacher, writer, director, actor, and producer. With an extensive background in Theatre for Youth, Sillau has worked for both Lexington Children's Theatre and Omaha Theater Company. Sillau has been the recipient of The Access Grant from The John F. Kennedy Center for the Performing Arts, Sillau served as a Teaching Artist Fellow for VSA, an affiliate of the John F. Kennedy Center for the Performing Arts. Currently, he conducts arts education professional development for teachers. To date, he has conducted workshops in Iowa, Nebraska, Kentucky, North Dakota, Tennessee, New York State, Washington State, Connecticut, and at the Smithsonian American Art Museum in Washington D.C. Another focus of Sillau is in teaching workshops specifically for youth with physical and developmental disabilities. In this work, he uses theater as a tool to help every child, disabled or not, to see the good and power within themselves. His professional activities can be found at http://www.Fransillau.com.

Fran's most popular residencies are listed below. However, he also has the ability to create a lesson plan to fit your current needs in the classroom. Fran has a background in education and uses teaching techniques that promote inclusiveness in the classroom.
The Dramatic Journey to Independence- This adventure will take students back to the time of the country's beginnings and explores important events of this period through drama.
Fairy Tales (or stories) Alive!-Writing, directing, and producing will all be part of this residency, students will write and act out short scenes from a book/story that they are reading in the classroom.
Theater in the Special Education classroom-Fran specializes in working with students with special needs. He has several ready-made plays perfect for special needs students to work with in a self-contained classroom or in a setting along with regular education peers.
Each residency will include a lesson plan for teachers to review prior to the beginning of the residency.

Residencies for Pre-K through Adult
Fran Sillau
8211 Manderson Circle
Omaha NE 68134
402-660-6892
email: fran@fransillau.com
Back to list of Artists