DALLAS CHIEF EAGLE II
Native American Hoop Dancer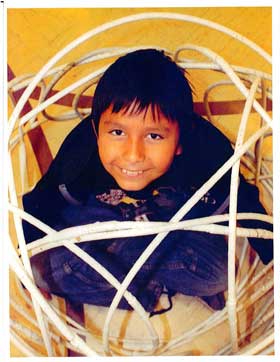 Dallas Chief Eagle II is a K-12 art teacher with a master's degree in guidance counseling and personnel services. A recognized master of the Lakota hoop dance, Chief Eagle has worked as an artist-in-residence and mentor to other dancers through his Hoop Dance Society on the Pine Ridge Reservation. A member of the Rosebud Lakota nation, Chief Eagle shares and teaches the traditional hoop dance in a manner that the students enjoy while learning about the development of their own characters.
Through the "hoop," he places an emphasis on the importance of both female and males roles in the world and presents traditional Lakota perspectives on boy-to-man/girl-to-woman growth. Over 300 hoops are used in a residency which focuses on self-balance, rhythm and movement. The finale of the residency is a school assembly or public performance during which core groups of students demonstrate the skills they have acquired throughout the week.
Grade levels: Pre-K-12
Contact: Dallas Chief Eagle
BOX 584., Martin, SD 57551
phone: (605) 455-1805, cell phone: (605) 407-0677
e-mail: dchiefe@gwtc.net