ANN TAECKER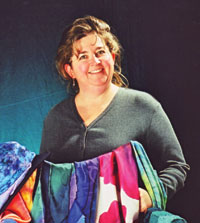 The word "Art" often conjures up visual images of two-dimensional art such as paintings or portraits. Stepping outside those boundaries, Ann Taecker works in non-traditional art forms ~ primarily fiber arts. A residency with Ann may incorporate silk painting, paper arts - 2 and/or 3 dimensional, impromptu screen printing, printmaking on fiber, quilt making, creating art for public spaces and painted murals. Whatever the media, Ann incorporates the history, culture and science of the media the students are using. Her residency is tailored by the sponsor with individual or collaborative (group) projects for any age group, including community adults and special audiences.
As color is elemental to nearly every art form; a strong component of a residency with Ann is color theory. Students learn how colors interact with each other, how colors change when placed next to each other and how to make color dance. With fiber, students engage the sense of touch as well as sight and experience how fiber can easily transform into a 2 or 3 dimensional form. Each residency has an emphasis on experiencing joy in the art of creativity.
A recipient of the SD Artists Grant and a SD Collaborative Artist Grant, Ann has received many awards for her silks. Her work is in corporate and private collections on 5 continents and exhibited often.
Grade levels: Pre-K – 12, Adult
Silk Painting/Fiber Arts/Paper Arts/Murals/Art for Public Spaces
Ann Taecker
1116 N. Broadway, Watertown, SD 57201
phone: 605-882-1780, 605-880-9285
e-mail: anntaecker@hotmail.com