Alvin Pipe On Head - Lakota Crafts
Master: Alvin Pipe On Head, Oglala
Apprentice: Calvin Renteria
Art Form: Lakota beadwork & buffalo horn spoons
Alvin Pipe On Head, an Oglala Lakota from the Pine Ridge Reservation, began doing beadwork about 15 years ago, learning from his mother and sisters. With a degree in Lakota Studies from Oglala Lakota College in Kyle, he now works at the Heritage Center at Red Cloud Indian School, cataloging and caring for their extensive collection of Native American art and artifacts. 
Alvin makes dance sticks, dolls, buffalo horn spoons and all kinds of beaded items. The first time he participated in the Northern Plains Tribal Arts show in Sioux Falls in 2002, he received an honorable mention in the mixed media-tribal arts category for a piece that incorporated beadwork, antlers and a horn spoon. 
His apprentice for 2001-2002, Calvin Renteria, was a student at Red Cloud with a budding interest in traditional crafts. They worked on loom weaving, peyote stitch, lazy stitch and appliqué beadwork, and Calvin made several pieces. One was a beaded buffalo horn spoon that won a ribbon at a Native high school art competition. Another was a beaded eagle feather that Calvin wore to his high school graduation. 
Calvin feels he has the skill he can carry with him for the rest of his life.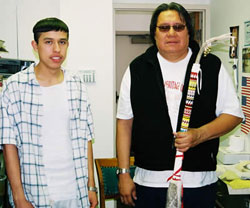 Apprentice Calvin Renteria, left, with Alvin Pipe On Head. Alvin is holding a beaded Deer Dance stick he made.