Annikki Marttila - Finnish weaving
Master: Annikki Marttila, Frederick
Apprentice: Marianne Marttila-Klipfel, Aberdeen
Art Form: Finnish weaving
Marianne Marttila-Klipfel grew up surrounded by her mother's weaving, and learned basic techniques when she was young, but never had the time to focus on the more complex traditional Finnish patterns. Annikki Marttila has been weaving since she was a child in Finland and runs a small weaving business out of her farmhouse studio north of Frederick. During this apprenticeship, Marianne worked on the Finnish raanu technique, which uses wool yarn on a cotton warp, and poppana, which uses bias-cut strips of cotton cloth for the weft. She also helped Annikki warp a large loom from back to front the traditional Finnish way.
Annikki Marttila (rear) and her daughter Marianne Marttila-Klipfel weave on the large looms in Annikki's studio.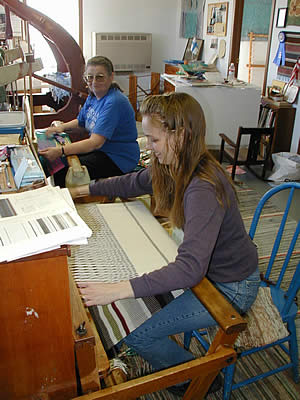 Marianne Marttila-Klipfel with her first raanu weaving.