Alvin Pipe On Head - Lakota Crafts
Master: Alvin Pipe On Head, Oglala
Apprentices:
Michelle Two Bulls, Pine Ridge
Ashley Two Bulls, Pine Ridge
Art Form: Lakota beadwork, buffalo horn carving
Alvin Pipe On Head is a master of many Lakota crafts—beadwork, woodwork,  buffalo horn carving— and is generous in sharing his knowledge. For this apprenticeship he worked with two of his nieces, Ashley and Michelle (Shelly) Two Bulls of Pine Ridge. The girls each picked colors and designs for beaded pieces for their dance outfits—moccasins, leggings, hair ties, chokers—and learned beadwork techniques such as peyote stitch, lazy stitch, appliqué and loom work. They also made a beaded crown for their sister Cecilia, who was the Manderson Tribal Princess. Alvin also had them help with making wooden horses and buffalo horn spoons.
Wooden horses made by Alvin Pipe On Head and his apprentices.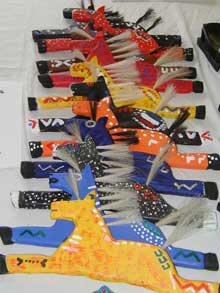 Beaded moccasins designed and made by Ashley Two Bulls.

Ashley Two Bulls, Michelle (Shelly) Two Bulls and Alvin Pipe On Head.