Herman Kraft - Damascus knife making
Master: Herman Kraft, Timber Lake
Apprentices:
Jett Kraft, Timber Lake
Kevin Willey, Faith
Art Form: Damascus knife making
Herman Kraft, a retired Timber Lake farmer, started making knives over 20 years ago. He specializes in the Damascus technique which involves forging many layers of steel and nickel together, then cutting the metal to reveal swirling topographic designs in the contrasting colors. For this apprenticeship he worked with his grandson Jett Kraft, who used to hang around the shop but had never put in focused time learning the Damascus technique, and Kevin Willey, a cowboy from Faith who met Herman at a blacksmith gathering. Kevin already knew how to work with metal and had experimented with Damascus on his own—he'd made a bit with it—so was thrilled to have Herman's expert guidance to deepen his knowledge of this rare art form.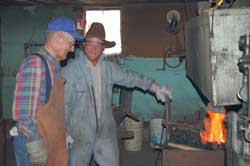 Herman Kraft and Kevin Willey at the forge in Herman's shop.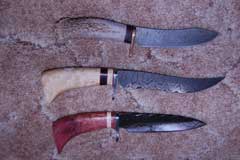 Damascus knives made by Kevin Willey during his apprenticeship.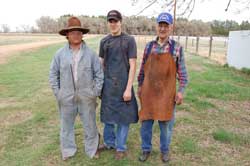 Kevin Willey, Jett Kraft and Herman Kraft at Herman's farm outside Timber Lake.