Linda Thompson - Lakota cradleboards
Master: Linda Thompson, Lower Brule
Apprentices: Tamara Fonder, Lower Brule
Stephanie Langdeau, Lower Brule
Art Form: Lakota cradleboards
Linda Thompson is well-known an a bead worker and regalia maker in her home community of Lower Brule and in the wider South Dakota Indian community; she is a regular participant and award-winner at the Northern Plains Indian Art Market. For this apprenticeship she worked with Tamara Fonder and Stephanie Langdeau, both members of her extended family, to make two different types of cradleboards. The first type had wooden uprights and comes from Cheyenne and Kiowa tradition, and Tammy and Stephanie did beadwork on Pendleton blankets that were sewn into covers for the boards. The second type was a more traditional soft buckskin cradleboard used by the Lakota people.
Apprentice Tamara Fonder shows the beadwork she has worked on a Pendleton blanket that will be used for a cradleboard cover.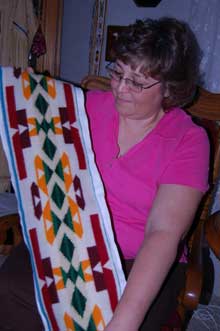 Linda Thompson's delicate beadwork on the toe piece of a moccasin.