Mary White-Country - Dakota dolls and cradleboards
Master: Mary White-Country, Sisseton
Apprentice: Robin Robertson, Sisseton
Art Form: Dakota dolls and cradleboards
Mary White Country and her husband Francis Country make exquisite Dakota dolls, rich in tiny authentic details. The Sisseton residents have been invited artists at the Santa Fe Indian Art Market for the last five years, a high honor. Mary's apprentice Robin Robertson was already an accomplished beadworker and knew how to sew, but she says making a doll and working on such a small scale was a real challenge. The first step in making a doll is to create the form for the body, and Robin spent a lot of time trying out different shapes and sizes in fabric until she got one she liked, and then made it in buckskin. Robin made an old-style outfit for her doll, using shells and brass, and said she made it in honor of her mother and all she had taught her.
Robertson with doll
Apprentice Robin Robertson holding her first doll, made under the guidance of master doll maker Mary White Country.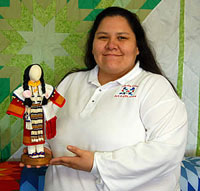 Mary White Country with a Dakota doll wearing a beaded buckskin dance outfit.