Alvin Pipe On Head - Lakota Crafts
Master: Alvin Pipe On Head, Oglala
Apprentice: James Pipe On Head, Oglala
Art Form: Lakota beadwork & buffalo horn spoons
James Pipe On Head was raised in a traditional family, is a dancer, and had learned some basic beadwork from his father, but wanted to go deeper into his Lakota culture. His uncle Alvin Pipe On Head was a respected artist who had mastered many traditional art forms and was eager to share his knowledge, especially with young people. Alvin and James focused especially on buffalo horn spoon making, which is a rare form, and also created loom beadwork and wooden spirit horses.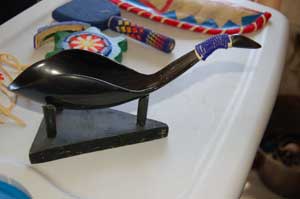 Buffalo Horn Spoon with beaded handle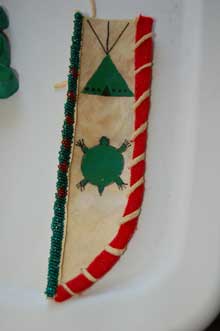 Beaded Rawhide Knife Sheath
Lakota artwork by Alvin Pipe on Head and his apprentice James Pipe On Head.