Tilda St. Pierre - Lakota Crafts
Master: Tilda St. Pierre, Kyle
Apprentice: Jasmine Terkildsen, Martin
Art Form: Lakota beadwork & quillwork
Accomplished Lakota artist Tilda St. Pierre worked with high school student Jasmine Terkildsen to teach beadwork, something Jasmine had a strong interest in but hadn't had a chance to learn before. After making a beaded pouch using applique techniques and a design she created herself with Tilda's help, she next made a pair of moccasins. She had to make her own pattern to fit her foot perfectly, then do the beadwork and sew them together with tendon thread. Tilda suggested that a doll would be appropriate as the next project for Jasmine to try, since they are important for the young woman's coming-of-age ceremony that is being revived among the Lakota.
Apprentice Jasmine Terkildsen with master artist Tilda St. Pierre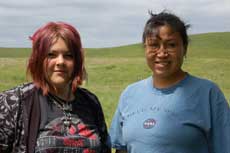 The pair of beaded moccasins Jasmine made during her apprenticeship with Tilda.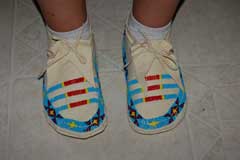 Tilda Quilled Bag
A buckskin bag decorated with quillwork and beadwork by Tilda St. Pierre.