Dwight Lamb - Missouri Valley Style Fiddling
Master: Dwight Lamb, Onowa, IA
Apprentices:
Bill Peterson, Canton
Josh Scott, Canton
Art Form: Missouri Valley Style Fiddling
Bill Peterson has been learning Missouri Valley style fiddle tunes from Dwight Lamb for over ten years, making regular pilgrimages to Dwight's home in Iowa and always bringing along other musicians to sit at the master's feet. This year he and Josh Scott, both from Canton, made monthly visits for a formal apprenticeship. There is always more to learn, and they picked up some new hoedowns, waltzes, and the unusual 6/8 tunes from the regional tradition. Dwight grew up in a musical family and recalls the many community dances in his youth. Those are mostly gone, but he has many recordings of the old players from Iowa and Nebraska and is thrilled that a new generation is committed to perpetuating the tunes from this unique tradition.
Missouri Valley style fiddle master Dwight Lamb (center) is flanked by his apprentices Josh Scott and Bill Peterson.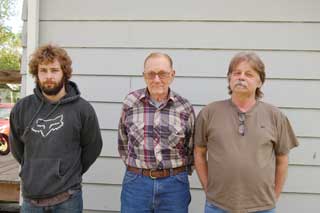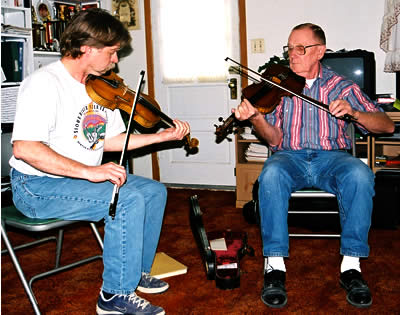 Bill Peterson, left, practices a fiddle tune with master Dwight Lamb.