Sharon Taylor - Damascus knife making
Master: Shane Taylor, Miles City, MT
Apprentice: Kevin Willey, Faith
Art Form: Damascus knife making
Kevin Willey is a busy man. In addition to being a working cowboy, he builds saddles, braids rawhide, and forges metal. To build on the knowledge of Damascus steel knife making he learned through an earlier apprenticeship with Herman Kraft, he set up another apprenticeship with master bladesmith Shane Taylor from Montana. Shane is known for his mosaic work, creating pictures in steel by using different colored metals and carefully layering and cutting to create animals, faces, Celtic knots and other intricate designs in his knives. Kevin has taken what he learned and applied it to making spurs and bits in the Damascus technique as well, and a pair of his spurs embellished with cut-out card suits won the Award of Excellence at the Artisan Blacksmith Association of North America convention in Rapid City in 2012.
Kevin Willey forging a Damascus steel knife while Shane Taylor watches.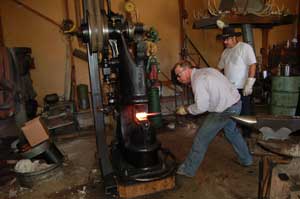 Kevin Willey's award-winning Damascus steel spurs.