Sunhild Muldbakken - Norwegian Rosemaling
Master: Sunhild Muldbakken, Sioux Falls
Apprentices: Eileen Halverson, Sioux Falls
Carol King, Vermillion
Art Form: Norwegian Rosemaling
Sunhild Muldbakken has been practicing Norwegian rosemaling, a form of decorative painting, for over 40 years and is a popular master teacher for the South Dakota Rosemaling Association. Eileen Halvorsen and Carol King are both members of the association and wanted to get more in-depth training in the art. Sunhild started them off with the basic brush strokes, paint mixing and shading techniques, and traditional designs from the Hallingdal and Telemark regions of Norway. Rosemaling has seen a resurgence of interest in the US in the last 50 years and is used to decorate wooden bowls and plaques as well as large chests and other pieces of furniture.
Master Sunhild Muldbakken (center) with apprentices Eileen Halvorsen and Carol King, all holding their rosemaling work.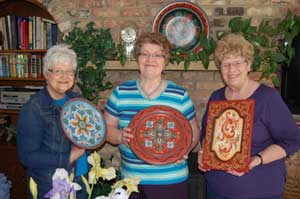 Rosemaling technique practice
A practice board showing colors, brush strokes, and design elements used in Norwegian rosemaling.