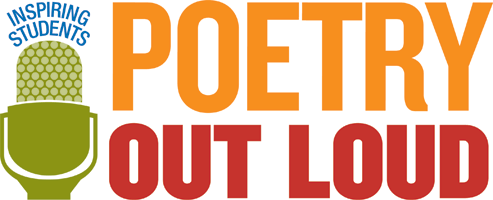 HIGH SCHOOL STUDENTS TO PERFORM AT POETRY CONTEST
PIERRE, S.D. – Nine South Dakota high school students will share their talents and the work of great poets while competing for the state title at the Poetry Out Loud recitation contest Monday, March 18, in Sioux Falls.
The contest will begin at 1 p.m., CDT, March 18, in the auditorium at Edison Middle School, 2101 S. West Ave., Sioux Falls. It is free to attend and open to the public. A live-stream of the event can be viewed at http://www.sdpb.org/poetryoutloud/.
Upcoming Dates:
Feb. 8 2019
Postmark deadline for preliminary-round videos
Feb. 22, 2019
Notification of state qualifiers

March 18, 2019
South Dakota State POL Contest, Sioux Falls

April 29-May 1, 2019
National Finals, Washington, D.C.

Email: rebecca.cruse@state.sd.us for teacher tool-kit, brochures, and posters. (Please specify needs and include physical address)

Contact: DJ Steckelberg, 605-660-3641 or djsteck@gmail.com for information about bringing Poetry Out Loud to your school!

What is Poetry Out Loud?
A FREE program for high school students (grades 9-12) in both public and private schools that encourages the nation's youth to learn about great poetry through memorization and recitation. This dynamic program helps high school students master public speaking skills, build self-confidence, learn about their literary heritage, and compete for more than $50,000 in awards.
Teachers: Learn about how to teach Poetry Out Loud in your classroom
2018 - 2019 Teacher's Guide (PDF)
Want to organize a local contest? Here's how:
Additional Resources:
Quick Reference Guide 2019 (PDF)
Recording guide for SD preliminary contest (PDF)
Common Core, NCTE Standards and Classroom Time
Poetry Out Loud satisfies more than half of the National Council of Teachers of English (NCTE) English Language Arts Standards and many of the Common Core State Standards in Reading and Language. The program guide includes optional lesson plans, and other elements teachers need to implement Poetry Out Loud easily into the classroom. The schedule and curriculum for Poetry Out Loud allows the program to take place over two to three weeks, according to each teacher's interest and schedule, and will not require full class periods during that time.
Prizes to state winners
$200 Cash and an all-expense-paid trip to Washington, DC to compete at National Finals
$500 for their school to purchase poetry books
An all-expenses- paid trip to Washington, D.C. to compete at the National Finals for the title of National Champion and a $20,000 top prize!
POL 2018 Images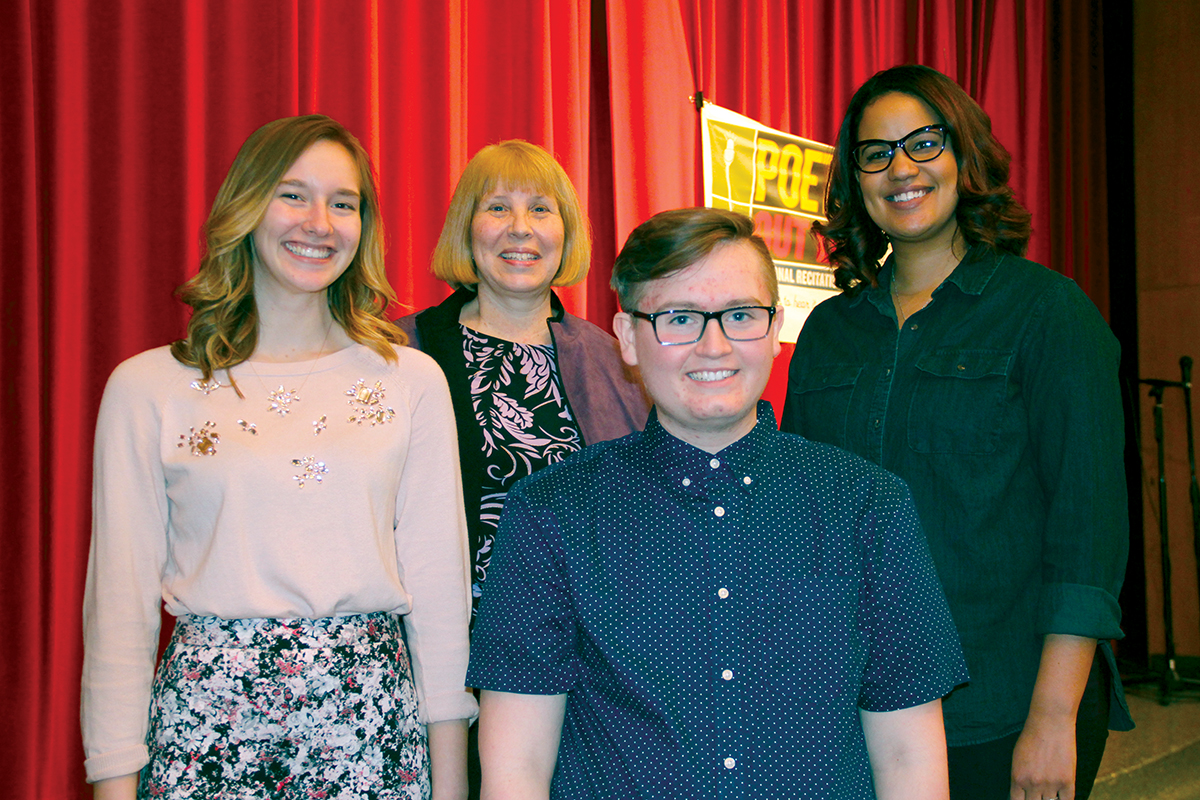 2018 POL First and second place students Gage Gramlick and Olivia Hienecke
with their teachers Amanda Nelson and Sharon Prendergast.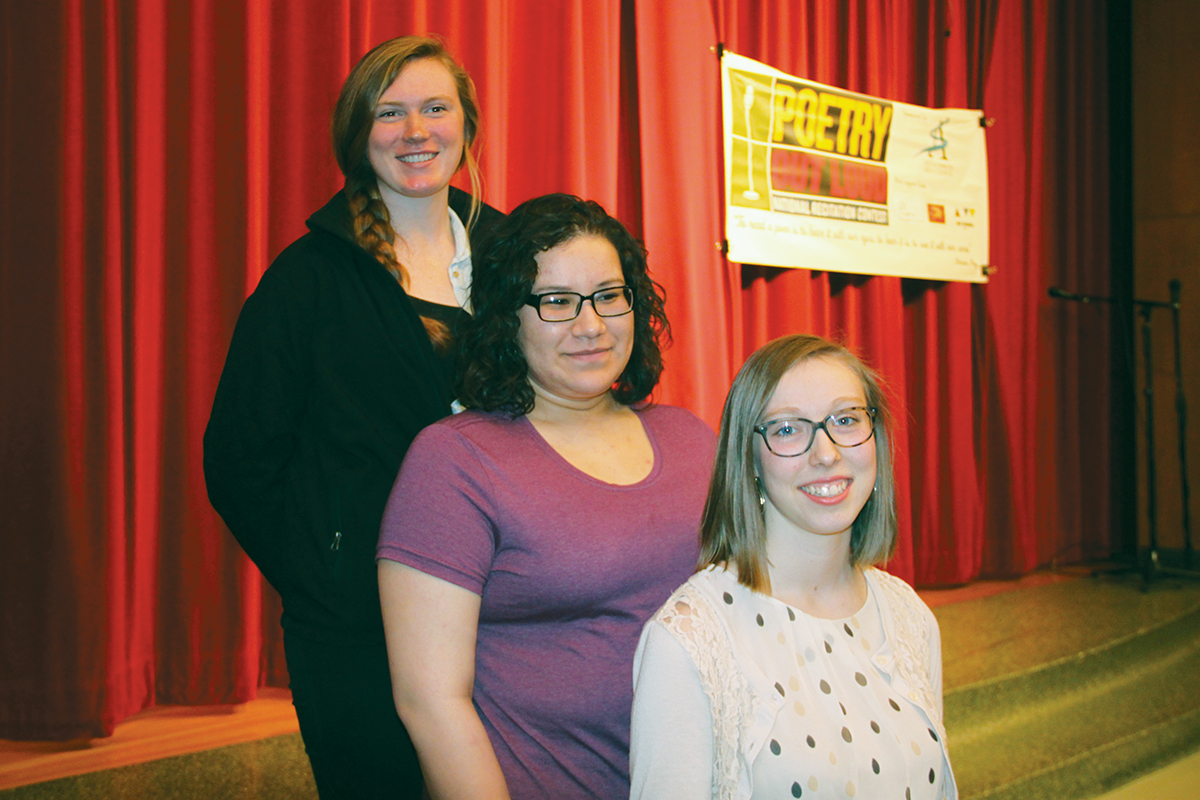 2018 POL Original poetry winners (B to F) Jennifer Ensminger, Vermillion High School, Senri White, Little Wound High School, and Noami Vonkeman, Greater Sioux Falls Home School Association; and were awarded for their original poems in a separate component of the competition.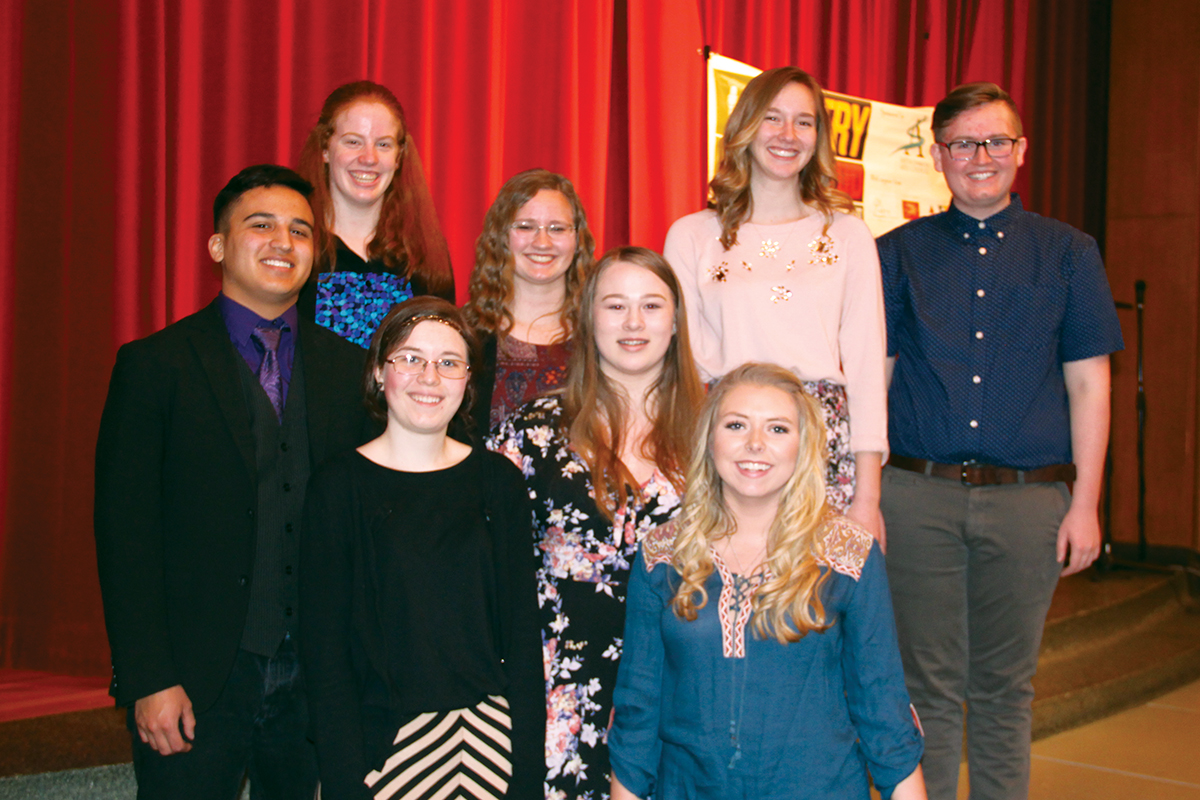 2018 POL Qualifying Students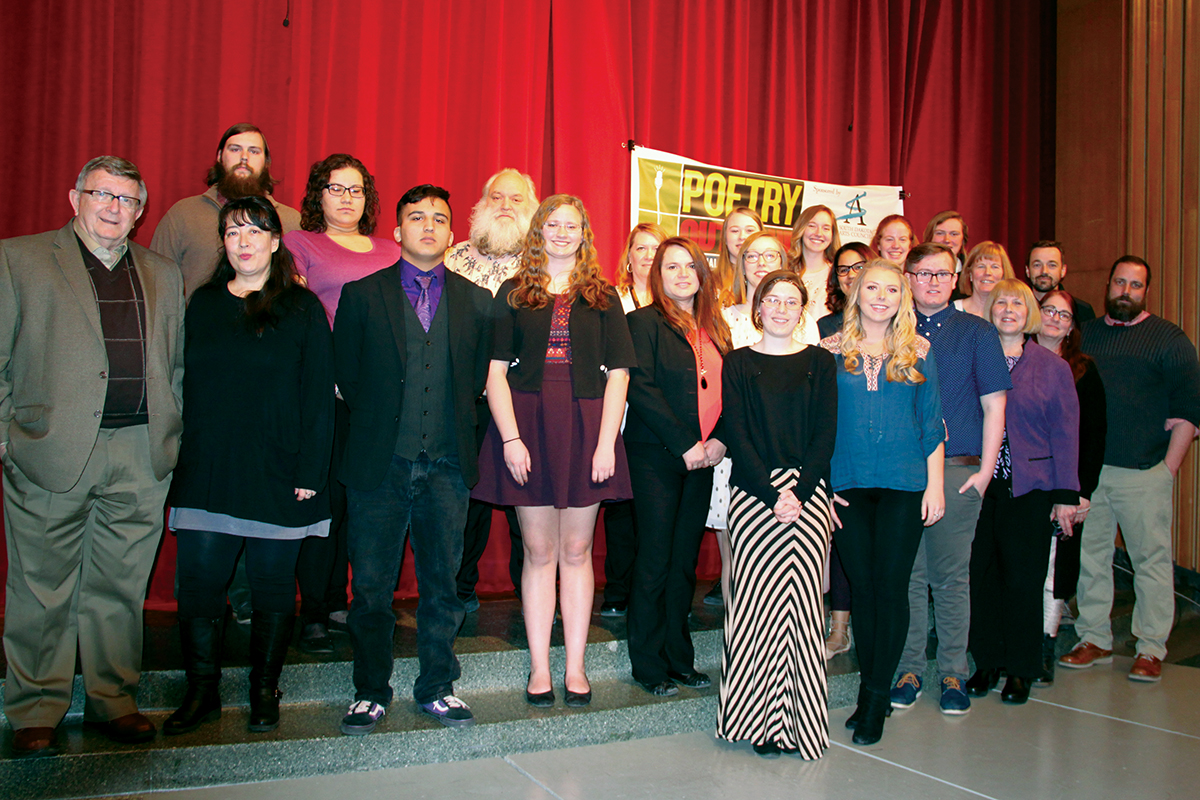 2018 POL Qualifying Students and Teachers