DYLAN JACOBSON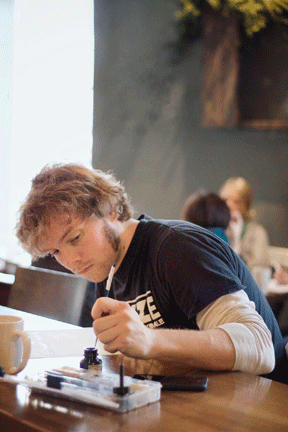 Sioux Falls comic artist and illustrator,
Dylan Jacobson, will lead students through the process of comic book creation from start to finish, engaging students from the very beginning as they conceptualize their comic book in teams of writers and illustrators.
Dylan's background in digital arts and design and experience as a web designer and freelance comic artist give him a unique perspective to guide students through the process.
During this residency, Dylan will bring forth the inner workings of creating comics to the students. From the necessity of good storytelling, to storyboarding, planning, and drawing and inking their own comics, students will learn every facet of the craft. Schools may choose to put a greater emphasis on writing good stories to meet English and writing standards. Conversely, the course may also focus heavier on artistic concepts such as character creation, framing and composition, and contrast. Older students will take on the challenge of creating a comic together. Students will be able to keep a digital copy of the finished work, and all of the components they have worked on throughout the class. Additionally, the school's library will receive a printed copy of the strip or book the class has created.
Having studied filmmaking for most of his college career at Dakota State University and the Minneapolis College of Art and Design, Jacobson was always fascinated by good storytelling. Being hooked on reading books and comics, watching television, and constantly hooked on flights of fancy in his youth, Dylan quickly developed an interest in both writing and the arts. Working tirelessly on scripts and storyboards brought him into the realm of comics. Since 2011, Dylan has released two web comics and the first of a comic book series.
Grade levels: 4-adult
Contact: Dylan Jacobson
Sioux Falls, SD
Phone: (605) 941-1846
Email: thedylanjacobson@gmail.com