Lawrence Diggs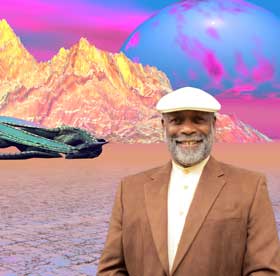 Communication connects humans. Poetry is an effective form of communication. In its spoken and/or written form it allows for a freedom of expression that is largely absent in other forms of communication.
Along the way to writing their poems, this residency will help students improve their verbal communication skills by challenging them to discover new words and new ways to arrange those words to sort out their feelings and thoughts and communicate them to others by helping them create, publish, or perform their poetry.
Few things will promote student confidence like performing or seeing their work published. In this one- to two-week residency Lawrence will work closely with students to help them find new ways to express themselves through poetry. He will guide them through the self-publishing process and coach them on public performance. The program ends with a public performance and/or the publication of a collection of their poems that can be purchased from a "print-on-demand" publisher in as many or few copies as they desire or can afford.
Often young people have a hard time connecting with school because they can't see how it is relevant to them. This is an opportunity to reintroduce them to self-teaching tools, such as various kinds of dictionaries and word-smithing resources. These tools can be used to express some deep and complicated feelings they have now, but will also prove useful throughout their lives. Students will do all of this while trying to express themselves through poetry
This idea is not new. It has a proven track record. Check out this website to see how it is working for others. Video: Young Detroiters unlock their inner poets | Watch PBS NewsHour Online | PBS Video. This is your chance to add something special to your already exciting and challenging class.
About Lawrence Diggs
Lawrence is the designer and editor of the South Dakota State Poetry Society's annual chapbook, Four Quarters to a Section, available at Amazon.com and other bookstores. He has
made a living in radio, television and public performance for over 40 years.
Many years ago I helped a group of troubled teens write and produce a short film about their lives, in 13 weeks. My approach to teaching is to attach what the student needs to know to something they want to know, say or do. Because most of my most influential teachers taught me to teach myself, I lean towards helping the student learn through self-discovery, experience and personal struggle. I work hard to engage students in their own development. I get a deep and ecstatic satisfaction from students learning even one little thing about themselves or overcoming some block that was keeping them from progress in their lives. I believe poetry can be a tool to accomplish these goals.
Grades 3-adult
PO Box 41
Roslyn, SD 57261
(605) 486-4536
art@diggsart.com
www.ldiggs.com/


Back to list of Artists