Starr Chief Eagle Lakota Culture Interpreter & Hoop Dance Extraordinaire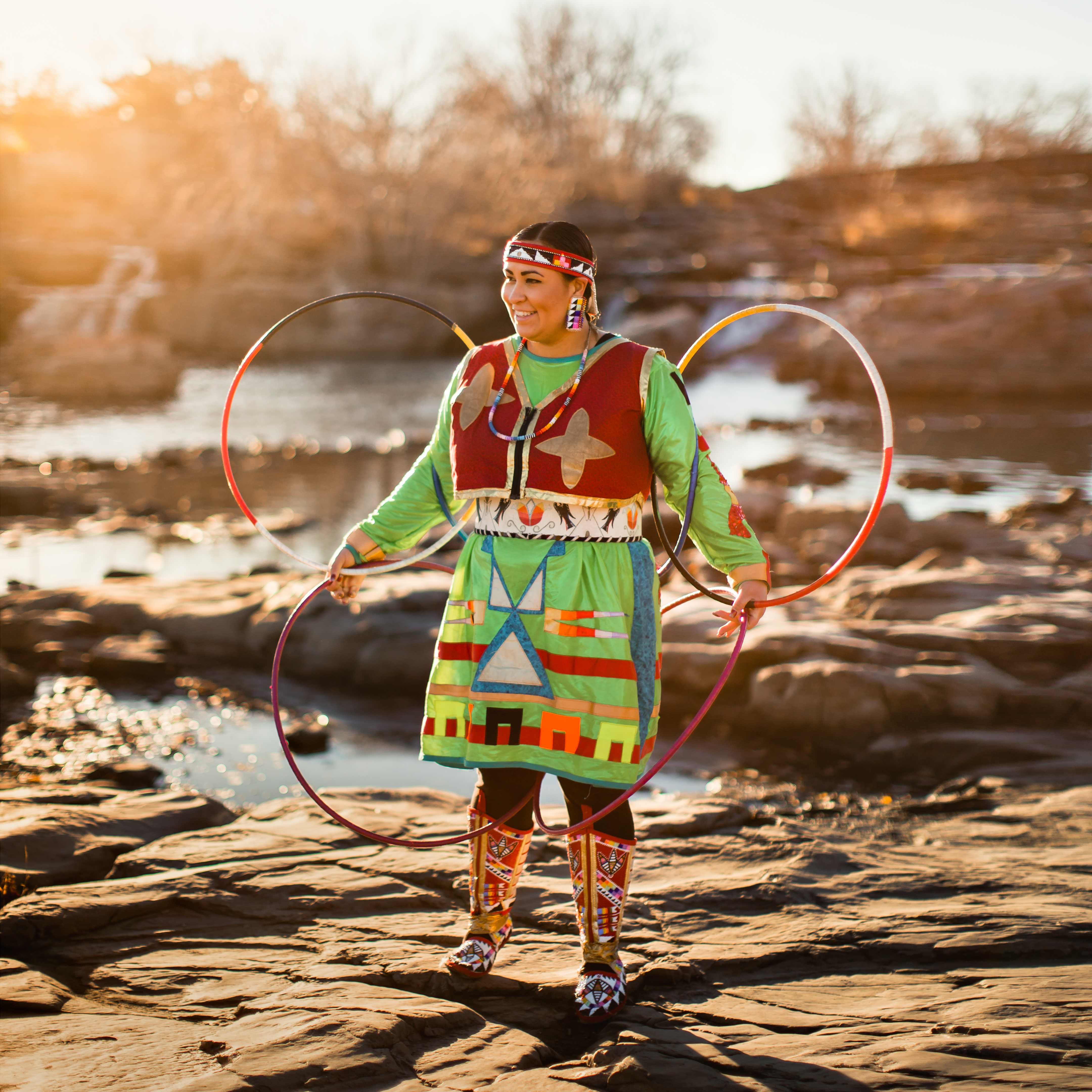 "Educator of the Year", Crazy Horse Memorial 2018
Black Hills State University: Bachelor of Science in American Indian Studies, Minor Philosophy
Oglala Lakota Studies: Associates Degree in Lakota Studies

Starr Chief Eagle is an enrolled member of the Sicangu (Rosebud) Lakota Sioux Tribe.    She was born with the Lakota name Wichahpi Tokahe (First Star) and was later given the Lakota name Wichahpi Ohitika Winyan (Brave Star Woman) as she entered into adulthood. She grew up in the Black Hills of South Dakota including Rapid City and the Pine Ridge Indian Reservation and started hoop dancing before she could walk.  Since then, she has been practicing every year to perfect her techniques and skills. Starr was raised up in hoop dancing by her father Dallas Chief Eagle and continues to carry on his teachings with a combination of her own.
Starr enjoys sharing her culture through art, language, dance, and song for future generations in hopes of restoring and maintaining the Lakota culture. She has performed the art of Hoop Dancing throughout the world and continues to further reach out at home and in the heart of the Paha Sapa (Black Hills of South Dakota) at places such as Crazy Horse Memorial, Mount Rushmore National Memorial, and schools, camps, and other gatherings. In her free time, she continues to learn more about the art, history, and language of her Lakota people. This knowledge can be seen in her crafts such as beading, sewing, and other artworks as well as influences her performances and teachings, enriching her everyday life.
Starr Chief Eagle will provide a complete ethnic dive into Lakota Culture that will explore the language, art, and stories of the Lakota people in a fun, educational way. The Hoop Dance encourages the use of important values including respect, creativity, determination, and self- balance. She will provide an additional 200 hoops to teach the Lakota Hoop Dance and its history through a hands-on learning experience. What is learned will then be demonstrated at the end of the residency through a final group performance where friends and family will be invited to partake in the educational event.
*All ages and any event
Contact: Starr Tokahe Chief Eagle
Rapid City, SD
Phone: (605) 787-0210
Email: healingthebrokenhoop@yahoo.com
Website: http://chiefeaglestarr.wixsite.com/hoop