The Gypsy Cowbelle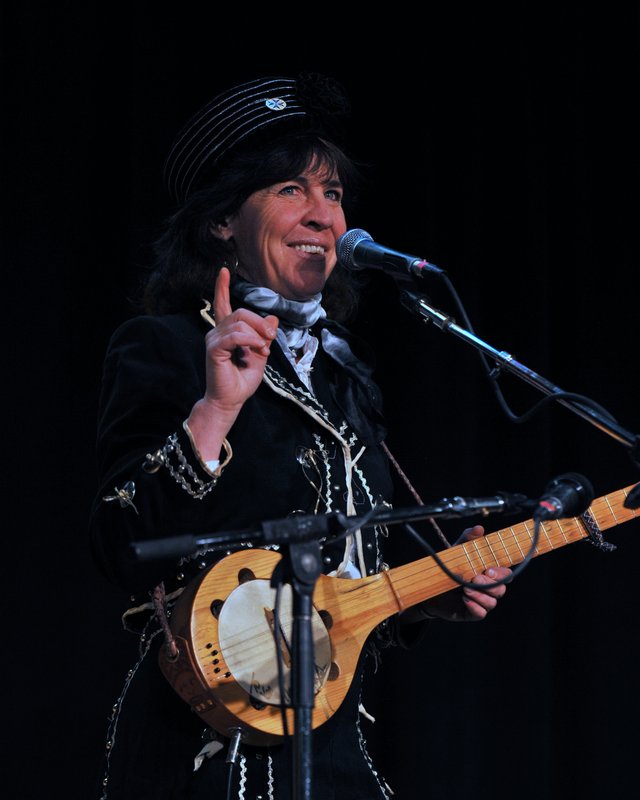 A bona fide troubadour, The Gypsy Cowbelle (a.k.a. "V") offers intriguing glimpses into American culture, history and lore. Her musical performances pair a diverse selection of original ballads with traditional cowboy, country and Americana covers. Compelling lyrics accompanied by solid rhythms on the guitar and her homemade Plank Banjo define "V"s signature "Genuine Cowbilly" sound. Her subtle humor, creative spirit, and penchant for discovering the road less travelled culminate in unique performances that entertain and provoke thought in equal measure.
The Gypsy Cowbelle's fascinating story has been captured in magazines, books, newspapers, radio interviews, and television broadcasts nationwide. While caretaking a homestead ranch for fourteen years, Miss "V" honed skills such as driving teams, making tack, running pack strings, building banjos, and cowboying. Two decades spent exploring rural America and her backcountry have afforded "V" her rich understanding of the land and its people.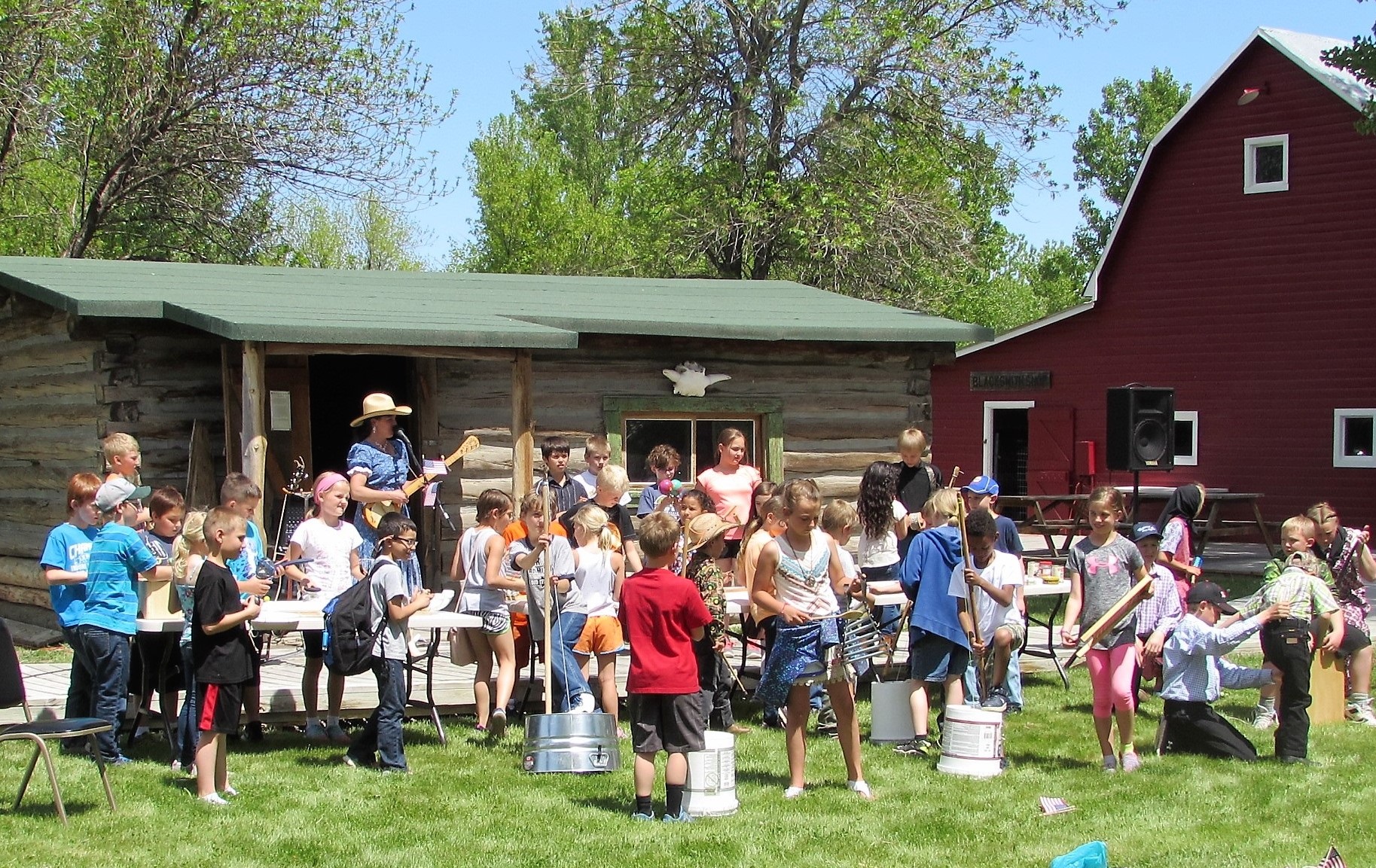 Indicative of a true folk performer, "V"s style and stories stem from the countless musicians and characters she has met along her way. Likewise, exposure to such diversity has cultivated her unique propensity to engage audiences of all ages and from all walks of life. Well-versed at performing at a wide range of venues, she specializes in outdoor, community and educational environments, including festivals, living history exhibits, museums, historical societies, libraries and campfire stages.
Miss "V" has been endorsed by the Wyoming and Nevada Arts Councils as well as the South Dakota Humanities Council. In 2014, she was awarded a prestigious Performing Arts Fellowship grant from the Wyoming Arts Council. She is currently producing her fifth CD of original songs.
Always true to her moniker, The Gypsy Cowbelle remains...Nothing Fancy But Guaranteed Authentic!
Technical requirements: 
Performer provides a professional PA system for all shows. A reliable 110v outlet is required and a stage is preferred for concert performances. For the "Homespun Instrument" workshops, two large tables are required as well. "The Modern Day Homesteader" documentary presentation requires a DVD player, projector and external speakers.
Optional Programming:
The Gypsy Cowbelle's creative nature has inspired a host of additional performance offerings. Her "Homespun Instruments" workshop, designed for children but enjoyed by all, evokes participation and creativity while embracing the joy of making music. Her educational "Trails West" and "Mare's Tails" theme concerts spotlight the era of Western expansion in America and Women's history, respectively. "Dawn InThe Night" is a captivating portrayal of America's most famous aviatrix, Amelia Earhart, while "The Modern Day Homesteader," is a compelling documentary presentation and discussion chronicling a year in the life on a remote Wyoming homestead, which has been featured as part of a Smithsonian Institution exhibit.

Fee structure: 
On average, $750 (including travel). SDAC support up to 50%.

Contact the artist: 
Laurie Vigyikan
PO Box 809
Thermopolis, Wyoming 82443
Phone: (307) 231-9252
Email: gypsycowbelle@gmail.com
website:http://www.gypsycowbelle.com