MAGGIE IN THE MEANTIME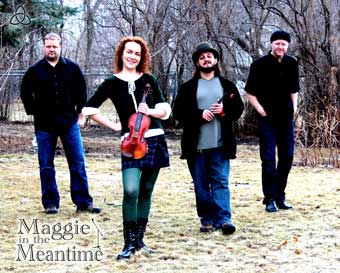 Maggie in the Meantime is a band made up of fiddle, guitar, keyboards, pipes, oboe, voice, and drums. They blend original arrangements of traditional and modern Celtic music and stories. In the course of the performance one hears some familiar songs and new ones, as well as humorous and haunting tales of Scotland, Ireland and regions of America where the Celtic peoples have settled. The band is made up of four members: Magdalena Modzelewska (violin), Darrel Fickbohm (guitar, vocals
& storytelling), Jeff Paul (oboe, pennywhistle, guitar, keyboards, and English horn), and Blaine Fickbohm (drums).
Darrel: "It is important to tell our region's stories, no matter what the ethnic origins might be-this is our place. Our culture is woven with marvelous material-of grandfathers, fathers and aunts who were storytellers and family 'characters.' There are enough sources in even one of our families to furnish a deep, rich look at what it means to live here in the Dakotas. All we have to do is remember.
Many cultures, like the Irish and Scottish, still listen to the same music from generation to generationit unites them. We, in America, have gotten away from that kind of cross-generational appeal, but it still can exist. The secret is in how we mix it. Stories will always be welcome, and the sound of guitar, violin, pipes and voice were chosen for the material because all of these sounds are so much like the natural music around us. Something in us responds because, young and old, we are all the same."
We do workshops in ensemble playing, storytelling, Celtic traditional forms, song writing, and educationally focused school shows with question and answer sessions.
Fee structure: Performance $2,000 to 2,500; Master class, workshop/clinic or informal daytime school performance $500. SDAC support up to 50%.
Technical Requirements: Space: A playing space at least 15 feet deep and 25 feet wide. Lights: Running lights to focus on a group of four to five players, situated in a slight crescent. Sound: We have our own soundboard and PA. If you would prefer to use your House soundboard, it will need to host, 6 microphones, 4 guitars, and 1 keyboard. 3 stage monitors are preferred. Sound & Light Check: Venue should be open and available to the band at least 3 hours before show time. After stage is set and the equipment is in operating order, a sound check with the House's instaff light & sound persons, to take place not less than 1 1/2 hour before show time and lasting an estimated one hour. At least 2 dynamic House mics should be held in reserve in the event of unsolvable feedback issues. Sound check should be completed to artists' satisfaction before opening of the house. Note: Ideally, the temperature in the theater should be held between 68 and 78 degrees for the protection and tuning of acoustic instruments.

Contact: Darrel M Fickbohm
5309 W. 37th St., Sioux Falls, SD 57106
(605) 361-7213
eroplain@sio.midco.net
website: http://www.maggieinthemeantime.com