Annikki Marttila - Finnish weaving
Master: Annikki Marttila, Frederick
Apprentices:
Diane Fields, Aberdeen
Peggy Worthy, Frederick
Art Form: Finnish weaving
Annikki Marttila is a native of Finland who started weaving rag rugs when she was just eleven. Now a resident of Frederick, she continues this family tradition using several looms in the studio of her farmhouse. Annikki taught her neighbor Peggy Worthy some loom weaving techniques, specifically the Finnish raanu style in wool, which is used for wall hangings. Her second apprentice was Diane Fields of Aberdeen, who learned two different techniques of rya rug making, one on a loom and one on a canvas backing.
Diane Fields admires her progress on a rya rug.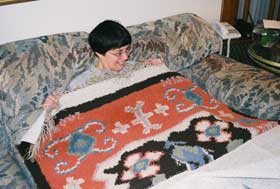 Annikki Marttila gives some pointers to Peggy Worthy as she weaves a raanu pattern.